Briefing Meetings take place four times a year.
We usually have one or two invited speakers to introduce a specific topic of current concern, followed by questions, discussion and contributions from members.
Meetings start at 2:00pm (please aim to arrive by 1:45pm) and finish by 4:15pm.
This is an open invitation.
While meetings are being held online using Zoom, the meetings will usually be held at 11:00am.
Important: Please register your attendance with Philip Walters at 01933 771778
or philip.max.walters[at]gmail.com.
Meetings will take place
online via Zoom and webinars
for the foreseeable future
Registration details will come out prior to each meeting so keep an eye on this page for more information.
Thursday
May 5th, 2022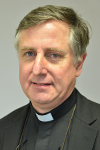 The theme will be "Catholic Social Teaching in a European Perspective". The speaker will be Ashley Beck, Associate Professor at St. Mary's University, Twickenham.
Looking Further Ahead
Future topics could include China, in collaboration with CTBI for which China is a major study focus, and also the Theology of Creation as expressed in growing concerns about Food, Agriculture and Wilding.
As usual after the presentations by our speakers there will be time for responses, questions and contributions from members; and of course if any member has something of importance to say on any other subject we will try to provide a space. If anyone would like to speak for a few minutes on a particular subject at the Briefing Meeting, please let Philip Walters (philip.max.walters[at]gmail.com) know as soon as possible in advance.